Greetings, Conscientious Food Consumers!
The sunshine season has finally arrived here in the Mid-Willamette Valley, and with it the bursting cornucopias of fresh colorful fruits and veggies in our local gardens and Farmers' Markets — from strawberries, beans and broccoli to cherries, peaches and snap peas. Hooray for our local growers and harvesters!
One "fruit" I particularly enjoy that is not grown locally is avocado — also known as the "alligator pear" because of its shape and mottled, reptilian-like skin. Botanically speaking, it is a fruit (actually a berry)! It's also a nutritional superstar, containing healthy fats, fiber, potassium and an impressive profile of other vitamins that make it a staple of healthy and specialized diets like keto.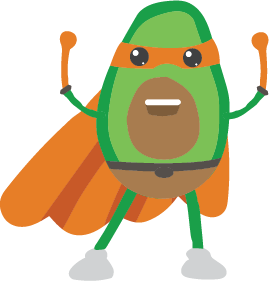 Many of the avocados consumed in the U.S. are grown in California, so they are plentiful in Oregon. I love 'em stuffed and on toast, in guacamole, sushi, fresh salads, dressing, salsa and many other dishes. Avocado is also a prime ingredient in high quality cooking oil, skin care and cosmetic products.
But as I have experienced — and I bet you have too — avocados are highly perishable! How often do you need more than one and bring home a discounted mesh bag of avocados, intending to make a big dish of guacamole (we love this recipe from First Alternative Co-op)… only to find yourself stuck with a batch of mushy, shriveled or off-tasting avos several days later?
For sure it happens, and I CONFESS: I'm still working on "no alligator pears left behind"! I tend to waste 1-2 a month, for varying reasons (more on that below).
HOW TO RIPEN & STORE YOUR "ALLIGATOR PEARS"
The first thing to remember about avocados after you get them home is that they emit ethylene, a naturally-occurring gas given off by certain fruits (such as bananas, apples and tomatoes) as part of their maturation cycle.
This off-gassing will speed up the ripening (and potential waste) of nearby fruit or veggies. If you want to help those rock-hard avocados along in that process, place them in a paper bag (not plastic), labeled, with the date.
Check these tips from the experts in the avocado industry. (They do NOT recommend consuming the pits!)
As advised in our handy A-Z Fruit and Vegetable Storage Guide, store them separately from other fruits or veggies on the counter and check often for ripeness, before transferring to a visible/accessible spot in the fridge (your "Eat First" area). (Keep separate.)
One of our regular Kitchen Confessions readers has discovered the egg rack in the refrigerator door is perfect for storing avocados!
To prevent browning on cut avocados, spritz on some lemon or lime juice and store in an airtight container or wrapped in plastic.
Check Still Tasty.com for more details about storing fresh avocados.
WHAT TO DO WITH THOSE OVER-RIPE "ALLIGATOR PEARS"
PUREE 'EM and stick 'em in puddings or smoothies! BigOven.com has lots of recipes for Chocolate Avocado mousse.
BAKE WITH 'EM: Make avocado chocolate chip brownies or muffins! Check your favorite foodie website or blog.
FREEZE 'EM (after slicing or pureeing) and transfer to freezer-safe containers for later use (don't forget to make a note on your handy Freezer Inventory!)
DON'T MAKE GUAC WITH 'EM! In my experience, bad avos ruin the taste.
GROW AN AVOCADO HOUSEPLANT with the pit.
*****
Now for this edition's Kitchen Confessions!
KAREN CONFESSES:
I love avocados, but can never eat a whole one at one time. Even when I buy just one at a time and try to carefully monitor its ripening, I frequently end up with the other half becoming inedible!
At left, an avo that was at the appropriate stage of ripeness. But during a recent roadtrip, it had spent some time in and out of the cooler, and had begun to spoil. After a couple of off-tasting spoonfuls, I made a shake with the rest.
At right, a dead avo that I put in a paper bag on the counter to ripen, then forgot that it was in there! (It was an unlabeled, nondescript paper bag that I managed to ignore.)
$$$ WASTED: Around $5-$6/month
LESSONS LEARNED: Mark the bag or put an "Eat First" label on my brown bagged avocados. Also I will probably start buying two avocados at a time, use one right away, and follow my own advice to puree/freeze one avocado for later!
NO FOOD LEFT BEHIND IN THE MEDIA
Did you see our spread in the Summer 2021 issue of the Co-op Thymes? Many thanks to Editor Adam Payson for this wonderful feature!